So what was the result of Youth Support's involvement with Jamaican youth and of taking young people to the World Youth Forum in London?
Such ventures are always prone to criticism from those who know no better or who want an excuse for not helping 'Oh its a waste of time' 'Why waste money on young people - let them get a job!' Many would scoff that the young people were after a holiday or just lived the good life in London and came back with a sense of superiority over their peers. Others would suggest that they may have been trying to emigrate illegally ... so many rebukes.
Well think again!

All the youth involved in the programme have gone back to their schools as head boy or head girl. They have graduated high school and some have gone on to university or are waiting to do so. Andre is teaching at his old school while waiting for a University course.

Omar is working and gaining experience before starting a degree course.

And what did they first ask for in London? Where are the discos? .. NO. Where are the shops? ... NO. They asked where the libraries were and how they could find study books!

These kids and others like them deserve all our help for the future. They are a credit to themselves, to their families, to Youth Support and to Jamaica. .
These are youth who can make a difference. Best of all - they are not content to 'rest on their laurels' or to think only of themselves. They are all actively involved in helping their peers and are working hard to make the 2004 World Youth Forum and International conference at the University of the West Indies Mona a success.
See their reports for further details
During 2002 'Youth Support Jamaica' promoted two important events –
| | |
| --- | --- |
| | 'World Youth Forum' – An opportunity for Jamaican Youth to be able to participate in the 'World Youth Forum' to be held in London in October 2002. |
The World Youth Forum formed part of the fourth International Conference on Adolescent Health and Welfare – an established major international event which traditionally has had input from Jamaican professionals. The Forum provided a unique opportunity for Youth from all over the world to discuss important issues and experiences and learn from other young people, international experts and celebrities. The aim was for delegates to carry lessons learned back to their own countries and to thus enable them to inform their peers and leaders / mentors in the hope of improving present practices and future conditions for youth – who are indeed 'Our Resource for the Future'
Youth Support Jamaica offered Jamaican companies and organizations the opportunity to be part of this important initiative – either by advertising at the event in The Barbican – London or by sponsoring young people to attend. Unfortunately sponsorship was not available for forum 2002 and Youth Support paid for the Youth entirely unaided. We hope that sponsorship will be forthcoming for the event in 2004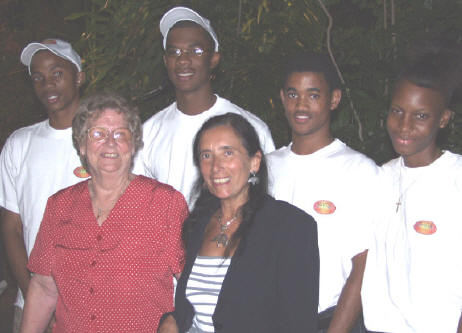 Some of the first youth to be chosen as delegates participated in our promotional event at Devon House (The Grogg Shop) on Tuesday March 26th where we also launched the book 'As My Mother Taught Me'. Interested companies and the Media were invited to join us.