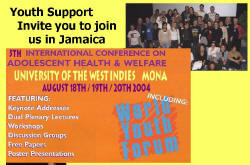 6th INTERNATIONAL CONFERENCE on ADOLESCENT HEALTH
London 25th – 26th – 27th October 2006
International Experts on Adolescent Health from around the world.
Conference 2004 was held at the University of the West Indies Jamaica. We have pictures and papers printed on the conference website.
Plus you can see details of the next Youth Support Conference 2006 which will be held in London.Abstracts and suggestions welcome.